Dr. David Good and Dr. Sandip SenGupta from the Department of Pathology & Molecular Medicine have just received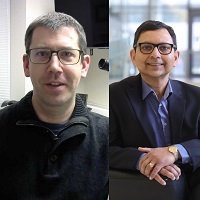 funding of $315,904 from the Ontario Health Digital and Virtual Care Secretariat for their new project 'Digital Morphology Tests of Change Proposal'. The premise of this new project in the realm of digital health care is the need to improve timely and equitable access to the best care possible for patients served, regardless of whether they live in an urban or rural setting in the South East region. Dr. Good and Dr. SenGupta say, "Small and medium-sized community hospitals do not have on-site medical specialists in Laboratory Hematology (i.e. Hematopathologists) and they often lack skilled Medical Laboratory Technologists (MLTs) to interpret abnormal blood films. Ontario is facing a serious shortage of MLTs, and this is felt most acutely in small community hospitals." The physicians say these small community hospitals increasingly rely on the expertise of doctors in academic health centres, including Kingston Health Sciences Centre (KHSC) and this can lead to significant delays in the initial recognition of serious, but treatable illnesses such as acute leukemia and malaria. 
"Although digital imaging platforms for blood films have been an evolving innovation for a number of years, they have historically been hampered by high costs and large scale of platforms, limiting their use to larger facilities. KHSC implemented digital blood film imaging technology (CellaVision®) in early 2021 and this has significantly streamlined the process for abnormal blood film review," they explain. "CellaVision® has recently introduced a small-scale digital morphology analyzer designed to enable low-volume laboratories to implement digital technology. As the operating software is identical for small and large platforms, they can all be linked into a regional network with digital images of blood films from small hospitals being reviewed remotely at a reference laboratory, like the one at KHSC." A regional digital blood film network would also allow for more efficient review of blood films after regular hours, as the Hematopathologist on call would be able to remotely review the blood abnormalities on a mobile device or computer at home rather than having to return to the hospital to review the slide under a microscope," Drs. Good and SenGupta detail. They also add that this project is aligned with the imminent implementation of a regional Health Information System (HIS) for all the hospitals in Southeastern Ontario, allowing test results to be easily accessible anywhere in the region.
The funding of this project by Ontario Health allows the Pathology team and Clinical Laboratories at KHSC to overcome the challenge of obtaining sufficient capital funds for this work and begin the process of improving care transitions and navigation through the healthcare system for patients. "This one-time investment will be used for the purchase of vendor hardware and software with installation of a central server and interfaces that will connect with each site for uploading of individual patient cases that can be reviewed centrally at KHSC," they explain. 
This project signals a shift towards the future of Pathology and Laboratory Medicine which lies in digital pathology. Drs. Good and SenGupta say, "The introduction of digital imaging of blood films for remote, virtual review will greatly enhance care for primary care physicians and their patients with blood disorders in our region. This is an important step in facilitating a smooth continuum from primary care through to tertiary/quaternary care. This project will contribute to ensuring the most efficient, effective and equitable care and keeping a focus on our patients' perspectives as they navigate through the system at the same time as dealing with an acute illness."