Dr. Diane Lougheed's term as Vice-Dean, Clinical for Queen's Health Sciences (QHS) and Medical Director for SEAMO began on December 1. Dr. Lougheed brings a wealth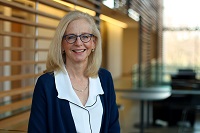 of leadership experience to her new role. A professor of Medicine and past Chair of the Division of Respirology, Dr. Lougheed is also cross-appointed to the Departments of Biomedical and Molecular Sciences (DBMS) and Public Health Sciences and is a Senior Adjunct Scientist at IC/ES (the Institute for Clinical Evaluative Sciences).
Dr. Lougheed has been part of SEAMO since its inception and has been part of the Queen's Faculty for over 25 years, holding a variety of leadership roles provincially and nationally. "For example, I worked on the committees that helped our provincial government develop the provincial asthma strategy that is still active today. I have also been extensively involved in our provincial and national Thoracic Societies." 
"I am a clinician scholar with approximately 50 per cent academic time protection. Clinically, my areas of expertise are asthma, cystic fibrosis and the investigation and management of chronic cough," Dr. Lougheed explains. Her educational roles include participating in undergraduate and postgraduate education. She says, "My contributions have included didactic lectures, problem-based learning/focused small-group learning, clinical skills, and education of residents in Respirology, Internal Medicine and other residency programs. I also supervise graduate students in Public Health Sciences, DBMS and the new Translational Medicine Program." Dr. Lougheed's research work is also extensive, having founded the Asthma Research Unit at Kingston Health Sciences Centre (KHSC). "My research focuses on two broad themes: asthma physiology and epidemiology. Understanding the physiological basis of asthma symptoms is an area in which I'm particularly interested as poor symptom perception is a risk factor for death from asthma.  My epidemiology research has focused on health outcomes and knowledge translation, particularly researching the implementation of best practice guidelines," she describes. Dr. Lougheed has been funded to develop, implement and evaluate tools that support and enable adherence with best practice in a variety of settings, including emergency departments and primary care practices. More recently, she has capitalized on EMRs as a knowledge translation tool to support adherence to best practice guidelines. "I'm also interested in data standards and have spearheaded the development of pan-Canadian respiratory standards for electronic health records, hoping this will enable the collection of get better data for outcomes monitoring, performance evaluation and surveillance, which in turn will enable benchmarking and quality improvement."
Dr. Lougheed sees this position as a pivotal one that supports the Dean of the Faculty and CEO of SEAMO . "The key item in the pipeline for SEAMO is the 3 Year HHR Plan. Physician wellness and equity, diversity, inclusion, Indigeneity and accessibility are strategic priorities for both the Faculty and SEAMO. I'm particularly hoping to help both organizations achieve faculty wellness and am excited to explore the opportunities for interdisciplinary education, research and team-based care. I look forward to exploring novel funding models and sources that enable members to thrive in all domains clinical, research and education. With my background in outcomes research, I'm excited to help implement and evaluate the new performance metrics as well," she said. 
Dr. Lougheed looks forward to the opportunity to learn and grow in her new position, to bring her expertise to the role, and help the Faculty and SEAMO achieve their new strategic priorities. "I particularly am looking forward to working with wonderful colleagues in the leadership of both organizations."