SEAMO received 49 applications spanning 12 departments and 26 specialties, valued at $8M for 2019-20 Innovation Fund competition.   This year SEAMO is able fund 11 projects because of a significant increase to our Innovation Fund budget.  We now receive $1.2M annually to support projects that aim to transform healthcare delivery in Ontario.   Thank you to everyone that applied and congratulations to the 11 SEAMO Innovation Fund award winners!  
Dr. Wael Abuzeid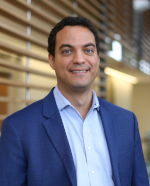 Implementation of a structural mitral valve clinic for the management of patients with heart failure refractory to medical therapy
Mitral regurgitation (MR) is the most common valvular disease which affects millions of people worldwide. If left under or untreated, MR not only negatively impacts patient outcomes, it also imposes a substantial cost burden to the health care system. 
While medical management can effectively treat patients with mild MR, surgical or transcatheter mitral valve (MV) interventions (minimally invasive treatment for inoperable and medication resistant patients) are required for patients with more advanced and chronic MR. There is a critical lack of local access, particularly for transcatheter MV treatments, for patients with advanced MR and heart failure in Southeastern Ontario who require procedural treatment. This is exacerbated by a fragmented and inefficient approach to health care delivery in this aging subset of MR patients who are most in need of optimal (accessible, comprehensive and timely) patient care. 
This project will address this unmet need through the implementation, evaluation and promotion of a structured and innovative interdisciplinary electronic consultation (eConsult) approach which addresses four high priority health care improvement domains and provincially recommended quality indicators.
Dr. Ramana Appireddy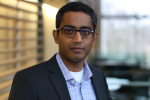 Adoption and Scaling up Home Video Visits in Kingston Health Sciences Center and evaluation of health economics, patient experience of care on home video visit use: A Mixed methods implementation study
Canada faces many challenges in providing sustainable universal healthcare. Some of these include access to specialists, providing patient centered care and rising healthcare costs. There is a need for transformative changes to healthcare to address these challenges. 
Home video visits (eVisit) is a novel telemedicine modality. eVisit allows patients to stay at home and have consultations with their physician via video-conference using a smartphones and tablets. We have successfully implemented eVisit into specialist practice at the Kingston Health Sciences Center (KHSC) in the Neurology Stroke Clinic as a 6 month pilot project. The eVisit program has since been scaled up in Neurology division to 70% of faculty. The results from the pilot, including the subsequent work with eVisits, has been adopted by the Ontario Telemedicine Network as a model of eVisit care in Ontario. 
We propose a study to scale up eVisit within the Department of Medicine at KHSC to all 14 specialties and study its impact on healthcare costs, physician efficiency and patient experiences of care. The research data produced from this study will inform other departments, SEAMO and Ministry of Health on digital health policy in the province and beyond.
Dr. Robert Bechara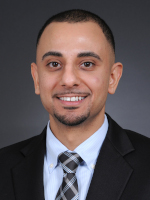 Fistulotomy as the primary cannulation technique for all patients undergoing ERCP: A randomized controlled trial
Endoscopic retrograde cholangiopancreatography (ERCP), a procedure essential in diagnosing and treating diseases of the pancreas and liver. It continues to result in significant morbidity in a small but not insignificant numbers of patients. Post-ERCP pancreatitis (PEP) is the major source of this and can be severe and even fatal. Therefore, any intervention or technique that can minimize or even eliminate PEP is highly desired.  Alternate approaches to the first steps of this procedure offer promise in reducing PEP, but present questions regarding safety and efficacy.  
We recently completed a prospective, feasibility study (SEAMO funded) aimed at showing that an alternative approach, the needle knife fistulotomy (NKF), is a safe and effective starting technique in non-selective patients. The results suggest that in expert hands, it appears at least as safe as the traditional access technique (in press). 
Having demonstrated the safety and feasibility of the NKF technique, the next step is to conduct a randomized-controlled trial (RCT) addressing the limitations of the pilot study and comparing NKF to the traditional access technique in a non-selective patient population.
Dr. Steven Brooks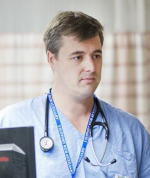 The Neighbours Saving Neighbours feasibility study: An intervention to increase survival from out-of-hospital cardiac arrest using a community volunteer responder model
"Sudden cardiac arrest" occurs when someone's heart stops beating unexpectedly. CPR involves pushing on a victim's chest to mimic the pumping action of the heart. Defibrillation, provided by an automated external defibrillator, or "AED", can shock the heart and restart its pumping action. Immediate CPR and AED use can markedly improve the chances of survival. Unfortunately, witnesses only provide CPR in 50% of cases and AED use in less than 3%. 
We propose the first community responder program for cardiac arrest in Canada. Our "Neighbours saving Neighbours" (NsN) project will recruit 250 community volunteers from areas of Frontenac County with historically prolonged paramedic response times. Once trained in CPR and equipped with AEDs, volunteers will be dispatched to nearby cardiac arrest emergencies in parallel with paramedics. They will provide basic life support until paramedics arrive. We will use data from approximately 50 anticipated cardiac arrests over the trial period to evaluate the safety, feasibility and potential effectiveness of the program. 
The results from this study will guide decisions on scaling the program up to other areas in Canada and will support the development of larger scale effectiveness studies.
Dr. Robert J. Campbell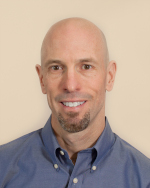 Improving the Effectiveness of Diabetic Retinopathy Treatment Programs
Diabetic retinopathy (DR) is the most common complication of diabetes and the leading cause of blindness in working-age adults. DR progresses from mild, asymptomatic stages through to advanced, blinding stages. Consequently, prevention of progression is a key goal of therapy.
DR treatment programs involve complex care processes and require significant hospital resources. Within these programs, the use of the vascular endothelial growth factor (VEGF) inhibiting drugs, aflibercept (AFL) and ranibizumab (RAN), has been shown to improve outcomes. Unfortunately, clinical trials have provided limited data comparing AFL and RAN in preventing DR progression.
The objective of this project is to improve the effectiveness of DR treatment programs by providing population-based data on the most effective VEGF inhibitor in DR treatment. 
The study will use secure health care databases accessed through ICES, where a number of team members hold appointments as scientists and have a long history working with these data. The team's engagement with key health system organizations will ensure that the research outputs can be directly mobilized to improve health care.
Dr. Mohit Kehar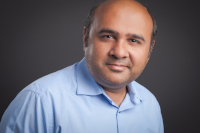 Screening patterns and the identification of non-alcoholic fatty liver disease in obese children in Canadian primary care
Non-Alcoholic Fatty Liver Disease (NAFLD) is the most common cause of chronic liver disease in children. NAFLD can lead to cirrhosis and liver failure and is an independent risk factor for cardiovascular disease and liver cancer. The overall global prevalence of NAFLD in children is estimated to be as high as 10%, and is expected to rise in tandem with current increases in obesity. This figure is higher amongst children who are obese (40%-70%). 
The information held within primary care electronic medical records (EMR) is extremely valuable to understand the burden of this disease and current screening practices of children with obesity for NAFLD. This study will utilize a national repository of EMR data to determine how many children are at risk for NAFLD, how many are being screened, as well as provide practice level feedback to practitioners about their own screening practices. This study will contribute to the body of knowledge and help inform these gaps so future recommendations can be made, including ways of implementing screening measures in real-life clinical practice.
Dr. Ron Levy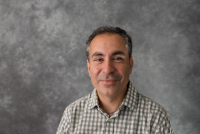 Using patient specific electrophysiological mapping and objective outcome measures to optimize the delivery and efficacy of neuromodulation therapy
Spinal cord stimulation (SCS) and deep brain stimulation (DBS) are types of neuromodulation techniques that help treat the symptoms of chronic pain and Parkinson's disease (PD), respectively. SCS delivers electrical impulses to the spinal cord and DBS delivers electrical impulses to the midbrain. Electrodes are surgically implanted and the pattern of the delivered electricity needs to be programmed by a clinician. Basic programming uses classical stimulation parameters that have been found to work by trial and error. Programming to further optimize stimulation to meet the inherent patient to patient variability in chronic pain or PD is labour intensive and limits the potential efficacy of neuromodulation.   
We propose to systematically test the relationships between stimulation parameters of frequency, pulse width, current, and electrode contact. We will simultaneously characterize the major clinical symptoms and signs of chronic pain and PD using automated and objective behavioural assessment technologies. 
Our goal is to identify specific combinations of stimulation parameters that maximize the clinical benefit while minimizing the side effects of stimulation thereby tailoring neuromodulation to individual patients.
Dr. Diane Lougheed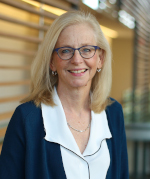 Promoting Evidence-based Asthma Care: Use of Sentinel Surveillance for Quality Improvement (PEACSS-QI)
The 'Promoting Evidence-based Asthma Care: Use of Sentinel Surveillance for Quality Improvement' project goal is to improve asthma care and patient outcomes by using patient information from electronic medical records (EMRs) to create a surveillance system to foster quality improvement strategies and optimize outcomes. 
First, we will determine the most reliable way to identify adults with suspected and confirmed adult asthma in EMRs (called 'case definitions'). We will use these case definitions to identify and report on asthma patient outcomes across the country in sites that are part of a national network called the Canadian Primary Care Sentinel Surveillance Network (CPCSSN). Second, we will convene a panel of primary care peer leaders and host workshops to determine how best to integrate asthma management tools and clinical guidelines into primary care EMRs across Ontario (and Canada). 
We will use this information to design and guide an improvement initiative based on point-of-care surveillance and feedback into 2 EMRs in use locally, and conduct a 6 month pilot test to see if it improves adherence with guidelines and patient outcomes. The results may be generalizable to other provinces and other chronic diseases.
Dr. Douglas McKay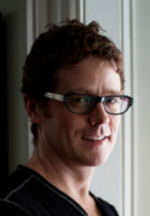 Intraoperative margin assessment during basal cell carcinoma excision using mass spectrometry in real-time
Basal Cell Carcinoma (BCC) is the most common type of cancer worldwide. Due to the increasing incidence rates of BCC, incomplete tumor removal, and subsequent revision surgeries represent an increasing burden on the Canadian healthcare system. This project aims to revolutionize skin cancer surgery through intraoperative identification of BCC and benign tissue at the surgical tooltip using Rapid Evaporative Ionization Mass Spectrometry (REIMS). 
We hypothesize that both benign tissue and BCC have unique molecular signatures that can be identified with REIMS during surgery. REIMS enables real-time evaluation of the tissue cut during surgery, allowing the surgeon to slightly extend the resection area to avoid incomplete tumor removal. 
Considering the growing number of patients with skin cancer worldwide, a reduction in revision surgeries could lead to major cumulative economic benefits, as well as psychological benefits for patients. Furthermore, as BCC often occurs on cosmetically-sensitive areas of the skin, prevention of potentially disfiguring recurrences is expected to have a significant impact on improving cosmetic outcome in BCC patients. The use of intraoperative REIMS could be extended to other oncological surgeries as well.
Dr. Samuel Silver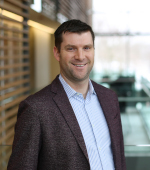 Improving Care after a Hospitalization with Acute Kidney Injury
Acute kidney injury (AKI) is a common complication that affects 1 in 5 hospitalized patients and carries long-term health consequences. However, most patients are unaware that they experienced AKI and receive no follow-up care, despite several strategies to improve outcomes and calls for research prioritization from the American Society of Nephrology (ASN) and National Institutes of Health (NIH). We have demonstrated that reasons for low quality follow-up care after AKI include misconceptions of its significance and the prioritization of other illnesses by healthcare providers. 
In Southeastern Ontario, these problems are magnified by a shortage of primary care physicians (PCP) and rurality, which further decrease access to care after AKI. We will address these barriers by assembling a prospective cohort of patients who survive a hospitalization with AKI to determine whether a nurse-led post-AKI care bundle is feasible and increases guideline-based follow-up care. These results will help improve post-hospital care for a previously neglected and vulnerable population, with the potential for dissemination to other Ontario hospitals and health systems.
Dr. Don Thiwanka Wijeratne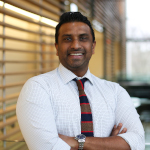 A Multi-modal Virtual Care Bundle to Improve Quality of Care for Chronic Obstructive Pulmonary disease (COPD) at Kingston Health Sciences Centre (KHSC)
Canadians with chronic illnesses like emphysema (COPD) face barriers to timely care, access to specialists and frequent hospital admissions.  As the population ages and costs rise, delivery of healthcare needs to change.  At KHSC, COPD flare is the most common reason to be admitted and readmission rates are higher than the provincial average. Implementing written discharge instructions and early follow-up has been useful but are time consuming and costly.
Telehealth has virtual care solutions like home video visits (eVisit) and telehomecare. eVisit allows providers to video directly with patients in their home using smart devices. Telehomecare gives remote patient monitoring (RPM) devices to patients to take home for self-education and trained provider monitors progress.  Both these methods are currently being pilot tested at KHSC.  
Our study will implement multiple interventions at discharge and evaluate quality of care delivered for COPD patients.  Using hospital data, we will predict vulnerable patients who would benefit the most from multiple services.  By complementing ongoing efforts at discharge with eVisits and RPM, we aim to empower patients, personalize care and improve delivery of care.
Want to learn more about the SEAMO Innovation Fund? Check out our website for additional information, important dates and to download the proposal form.