Today and every day, we appreciate the indelible mark our female SEAMO-funded physicians have left on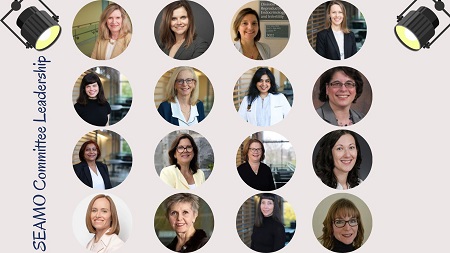 the world of healthcare. We thank our female physicians for their time, commitment and dedication to delivering outstanding patient care and transforming medicine regionally, provincially, nationally and beyond. 
We want to take this opportunity to recognize our female SEAMO leaders who sit on each of our committees. In March 2019, the SEAMO Governing Committee adopted the following statement:
The SEAMO Governing Committee will promote the participation of a diversity of individuals with varied skills and experiences. The Board will administer a nomination process that encourages a diversity of candidates, including equity-deserving groups. A more inclusive Governing Committee and supporting committees will enrich partnerships, enhance accountability, and improve SEAMO's reputation.
At the June 2021 Governing Committee meeting, a presentation from the Nominations & Governance Development Committee highlighted the lack of diversity on SEAMO standing committees.
For the 2021-22 year, SEAMO management made an effort to increase committee recruitment efforts in the hopes of improving diversity. They spoke with Department Heads, CTAQ, the Staffing office and other leaders, including the Women in Medicine Table at Queen's University, to go about increasing a diverse representation on SEAMO standing committees.
As of March 2023, SEAMO committees are up to 41 per cent female representation.
Please see a list of the membership of our SEAMO committees below:
 

| | | | | | |
| --- | --- | --- | --- | --- | --- |
| Governing Committee | Executive Committee | Accountability Committee | Nominations & Governance Development Committee | Resources & Audit Committee | Strategic Priorities & Recruitment Committee |
| Chair: Mr. John Sheridan | Chair: Mr. John Sheridan | Chair: Dr. Diane Lougheed | Chair: Ms. Susan Fitzpatrick | Chair: Dr. Tarit Saha | Chair: Dr. Jane Philpott |
| Vice-Chair: Ms. Susan Fitzpatrick | Vice-Chair: Ms. Susan Fitzpatrick | Dr. John Drover | Dr. Jeannie Callum | Dr. Ramiro Arellano | Dr. Ryan Bicknell |
| Dr. Stephen Archer | Dr. Christine D'Arsigny | Ms. Susan Fitzpatrick | Dr. Andrea Guerin | Dr. Lysa Boissé-Lomax | Dr. Mike Fitzpatrick |
| Dr. Christine D'Arsigny | Dr. Diane Lougheed | Dr. Laura Marcotte | Dr. Paul Heffernan | Dr. Olga Bougie | Dr. Roumen Milev |
| Dr. Paul Heffernan | Dr. Jane Philpott | Dr. Tarit Saha | Dr. David Hurlbut | Dr. Jason Izard | Dr. David Pichora |
| Dr. Lawrence Hookey | Dr. David Pichora | Dr. Stephen Scott | Dr. Mala Joneja | Dr. Diane Lougheed | Dr. Tarit Saha |
| Ms. Donna Janiec | Dr. Tarit Saha | Dr. Stephen Vanner | Dr. Alenia Kysela | Dr. David Messenger | Dr. Stephen Scott |
| Dr. David Pichora | Ms. Cathy Szabo | Dr. Maria Velez | Dr. Jane Philpott | Dr. Jane Philpott | Ms. Cathy Szabo |
| Dr. Jane Philpott |   | Dr. Richard van Wylick |   | Dr. Claudio Soares | Dr. Richard van Wylick |
| Dr. Lynne Postovit |   |   |   | Dr. Sonal Varma |   |
| Dr. David Messenger |   |   |   |   |   |
| Dr. Tarit Saha |   |   |   |   |   |
| Ms. Cathy Szabo |   |   |   |   |   |
| Dr. Sonal Varma |   |   |   |   |   |
| Dr. Ross Walker |   |   |   |   |   |