Starting July 1, 2022 Mr. John Sheridan will be taking over from Mr. George Thomson as Chair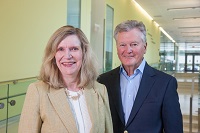 of the SEAMO Governing Committee and Ms. Susan Fitzpatrick will be joining SEAMO as the new Vice Chair and Chair of the Nominations & Governance Development Committee. 
John brings extensive experience in business and board governance to his new role at SEAMO. After graduating from Queen's University with a Masters degree in Economics in 1978, he went on to become president of three companies: Encom plc in the UK, Bell Canada and Ballard Power Systems. "During my career, I also had the opportunity to serve on the Boards of Directors for a number of corporate and not-for-profit organizations, which taught me a lot about organizational governance, fiduciary and strategic oversight, managing innovation and developing and retaining talent," he explains. "I retired from my last CEO role in 2015 in Vancouver and moved back to Kingston in 2016. My plan in retirement has been to get engaged with important organizations that interest me and in which I can make a difference. Several of these engagements have been related to healthcare, including the Centre for Health Innovation, Elentra, and SEAMO."
Acknowledging the legacy of his predecessor, John says he is looking forward to the strategic future of SEAMO. "As I move into the role of Chair of the Governing Committee behind George Thomson, I obviously will have big shoes to fill. Anybody who knows George knows he is an incredibly accomplished and impactful leader who has contributed on many SEAMO fronts," he describes. "Fortunately, our strategic direction has now been clearly established. My primary focus will be working with Dean Philpott, other governors and the SEAMO management team to help SEAMO take the key initial steps to implement our new vision, including strengthening the engagement of our members, investigating value-based healthcare in Kingston, and strengthening regional partnerships." John expresses his desire for SEAMO to become a healthcare leader in the province: "I really feel we have a great opportunity at SEAMO, given the talent of our members and the uniqueness of our structure. We can demonstrate real innovation in integrated healthcare in southeastern Ontario, which can benefit our communities and provide leadership direction for the rest of the province." 
John says he is looking forward to working with Susan as the new Vice Chair. "Susan was a unanimous choice by the Nominations & Governance Development and Governing Committees given her stature in Canadian healthcare and her many impressive accomplishments." 
Susan comes to SEAMO having worked in healthcare for 40 years. She started her career in Kingston in 1982 joining the Ministry of Health's (MOH) OHIP division before joining the Provider Services Branch in 1996 and becoming Director. During this time, she completed her Masters of Public Administration with a health specialization at Queen's. "The major focus of the branch was working with the Ontario Medical Association (OMA) and working on the Physician Services Agreement in 1997. Many memorable negotiations followed, she says. Strong ties with Kingston leaders were established including John Rapin as OMA President at the time, David Pattenden as OMA CEO, Ruth Wilson through her work on primary care and David Walker for his work on SEAMO. SEAMO was one of the first AHSC AFPs and unique both then and now as a fully-funded model. At the Ministry of Health, Susan held the positions of Executive Director, Assistant Deputy Minister and Associate Deputy Minister. "I continued leading OMA negotiations until 2015. I led exciting new funding models linked to quality and worked collaboratively with colleagues on primary care implementation," she says. Susan left the Ministry of Health in 2015 and became CEO at the Toronto Central LHIN where she had first-hand experience in implementing a sub-region model for primary care and overseeing of the CCAC to the LHIN. "I subsequently became the inaugural CEO for Ontario Health and lay the foundation for the amalgamation of 20 agencies into one organization. Since Spring 2021, I have been leading the design and development of the Canadian Drug Agency for Health Canada," she explains.
Being aware of SEAMO since its inception in 1994 and assuming responsibilities at the MOH for physician services including AFPs, Susan became even more involved in the model for SEAMO. "I have worked closely with Ministry staff and SEAMO staff on funding model changes. In later years, I worked closely with Paul Huras at the SE LHIN and saw the strong collaboration with SEAMO through then-leader Dr. Richard Reznick. I have appreciated somewhat from a distance how the Kingston health organizations are working closer and closer and achieving excellent results. There is a great opportunity to continue this collaboration," she says. Susan describes how she is most looking forward to working with and contributing to health care excellence in Kingston. "I think I can bring strong interpersonal and relationship skills, as well as strong strategic thinking, to the role. I hope the future of SEAMO looks like part of a highly collaborative Kingston healthcare team," she says. "There are many ways of doing this to ensure coherence of the system partners and make it more seamless for the many people dependent on the high-quality healthcare delivered in Kingston."