Diseases of the kidneys affect millions of Canadians and disproportionately affects disadvantaged people. This is where the all-important role of research comes in, according to Director of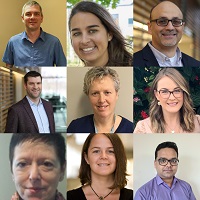 Research for the Division of Nephrology at Queen's Dr. Rachel Holden. "Research has a critical role to improve the lives of people with this condition. Our research program seeks to create better ways to prevent, diagnose and treat kidney disease and the complications associated with having kidney disease," she explains. "The future of Nephrology research is to enhance evidence-based and patient-centred personalized care to improve clinical outcomes for people living with kidney disease.
The kidneys are a crucial part of the human body, removing waste products and regulating body water content, stimulating the production of red blood cells, regulating blood pressure and having important endocrine functions in calcium and phosphate balance. The work being done by nephrologists at Kingston Health Sciences Centre (KHSC) aims to improve patient outcomes in several different ways. 
Acute Kidney Injury (AKI):
"AKI is a rapid decline in kidney function that affects 1 in 5 hospitalized patients and carries long-term health consequences. In patients with AKI, we do not know how to increase the likelihood of kidney recovery or prevent the development and progression of chronic kidney disease," Dr. Holden says. "Dr. Sam Silver is testing two new models of care for patients with AKI: (1) a standardized dialysis prescription that minimizes further organ damage and (2) a nurse-led post-AKI care bundle for patients discharged from hospital. This RECOVER-AKI research program is funded by the SEAMO AFP Innovation Fund and Kidney Foundation of Canada, whose long-term goals are to make evidence-based and patient-centred care a reality for patients with AKI who survive their acute illness." 
Dialysis treatment:
"The elderly represent a rapidly expanding group of patients who require hemodialysis therapy. Three hemodialysis sessions per week is the standard 'one size fits all' for most patients who need hemodialysis," Dr. Holden explains. "With funding support from the SEAMO AFP Innovation Fund, Dr. Christine White is concluding a randomized controlled pilot study to determine the feasibility and safety of a clinical trial designed to determine whether elderly patients can be safely treated with a twice a week treatment approach that could benefit patient wellbeing and quality of life." 
Kidney transplants:
"Kidney transplant is the optimal treatment for many patients with kidney failure but can be associated with complications post-transplant that result in poor clinical outcomes. Dr. Khaled Shamseddin is collaborating with national and international partners to evaluate and modify post-transplant risk factors to optimize patient outcomes," Dr. Holden describes. "He is part of a team that is evaluating the effectiveness and benefits of the COVID-19 vaccination among kidney transplant recipients who are immunocompromised (CONQUER) and the benefits of cardiac screening in patients who are waiting to receive a kidney transplant (CARSK)."
Chronic kidney disease:
"Dietary phosphate intake is increasing substantially in Canada. Phosphate is a risk factor for cardiovascular disease in patients with low kidney function, but whether phosphate is a risk factor for chronic diseases in the general population is not known," Dr. Holden says. "With the support of the SEAMO AFP Innovation Fund, CIHR and the Canadian Space Agency,weI have developed an oral phosphate tolerance test that will help us determine whether high dietary phosphate is a risk factor for cardiovascular disease in people without advanced chronic kidney disease." 
Dr. Holden says kidney disease disproportionately affects Indigenous Canadians and people from disadvantaged social and economic strata. "With the support of the SEAMO AFP Innovation Fund and CIHR funding, Dr. Karen Yeates has developed a collaborative research partnership with physicians, community-based researchers and community members in Indigenous communities along the Western James Bay Coast. These communities receive medical services from SEAMO physicians through the Queen's Weeneebayko Program including care for kidney disease, dialysis and kidney transplant patientss," Dr. Holden explains. "Dr. Yeates will use research grant funding to explore ways to provide better person-centred care, use culturally appropriate digital health tools, and support individuals to manage their chronic kidney disease as well as diabetes, two diseases closely intertwined."
The team supporting Nephrology research at Queen's and KHSC is substantive. "The Queen's Kidney Research Unit was established in 2017 and is co-chaired by myself and Corinne Babiolakis, our Clinical Research Associate. Corinne provides oversight to our group of 12 nephrologists and oversees single and multi-centre investigator-initiated clinical trials and supervises two outstanding research coordinators. Shahriar Zaman is currently the lead site coordinator for four multi-centre international clinical trials that investigate the safety and efficacy of treatment strategies for dialysis and transplant patients," Dr. Holden describes. "Jordyn Coffin supports our divisional investigators with start-up and research operations of our Queen's-led multi-centre clinical trials. Sandra Belanger is a registered nurse who assists with the conduct of the AKI and phosphate-related studies. Patrick Normam is a biostatistician at KHSC and provides statistical expertise to support all stages of the research process. Andrew Goss provides data management support to the research coordinators."
Dr. Holden says kidney health is important to recognize this month and all throughout the year. "The importance of kidney health is underappreciated and for many is a silent disease that is underrecognized."