The Department of Psychiatry provides mental health supports to the entire community, not only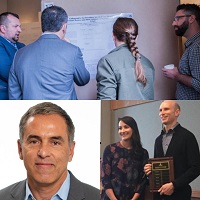 through hospital-based services, but to the community at large. With over 50 full-time psychiatrists, Department Head Dr. Claudio Soares says these physicians are fairly spread out. "Most Faculty work in the hospitals, both Providence Care and Kingston Health Sciences Centre (KHSC), but we also have psychiatrists who work with Correctional Services of Canada and in community-based agencies like AMHS-KFLA and Street Health. We also have regional outreach programs in Belleville and Napanee." Dr. Soares also said Psychiatry is wide-spread throughout the hospital-based services. "Within the hospital, we provide mental health support to patients in the Emergency Medicine Department, as well as to patients admitted to medical and surgical wards through our consultation-liaison psychiatry service. We also have inpatient unit for adult and children and youth." 
The Department has been with SEAMO for at least 15 years and though the psychiatrists receive funding from various revenue streams and supports, roughly 50% of the physicians receive some kind of funding from SEAMO. "Right now, there are a few hybrid positions, close to 30 fully SEAMO-funded psychiatrists, and another 16 transitioning from Providence Care to SEAMO," Dr. Soares said. "SEAMO's support has been instrumental for the Department to secure the resources for psychiatrists so we can dedicate attention to mental health needs regardless of billing capacity. A lot of mental health needs are taken care of by physicians whose activities that are hard to bill for, particularly among the most vulnerable, marginalized groups; it would be hard for us to support those patients without SEAMO. Having SEAMO for recruitment and retention of Faculty is instrumental." 
Dr. Soares said COVID-19 has resulted in an increase in cases for Psychiatry, but also an opportunity to revisit how physicians care for patients. "On one hand, COVID-19 has put a strain on the whole system and mental health is not an exception; mental health is one of the areas that has suffered the most. Not only have the public health restrictions been difficult, but the social isolation and life disruption has particularly affected those with mental health issues and influenced the complexity of patients we have seen. On the other hand, it has given us an opportunity to help as many people as we can through virtual care. We have expanded considerably our virtual care over the past year," he said. One thing the Department has refocused on is the delivery of Cognitive Behavioural Therapy (CBT). "We have been involved in the remote delivery of CBT for our patients struggling with anxiety, PTSD and depression, and also model that for those on the frontlines of COVID-19 with stressors related to the pandemic. We give them access to CBT remotely and they use that as a resource for wellness." In terms of research, the Department is looking into mobile health technologies. "Sometimes fit-bits or wearable devices can help us monitor patients' activities and sleep patterns and early detect those who are higher risk to relapse into anxiety and depression," Dr. Soares said. 
The Department's response to the pandemic has created the COVID-19 Wellness and Psychiatry Response Team, a roster of 14 psychiatrists and a few allied healthcare professionals who provide care to physicians struggling with mental health issues or looking for support. Dr. Soares said, "With the service, they get a very quick response, and they are either connected to resources or able to see someone. We have seen many faculty members across the system accessing this service." 
One thing Dr. Soares would like others to know about the Department of Psychiatry is that it works very closely with many different Departments. "Psychiatry is a medical specialty and we do not work in isolation. We constantly interact with a lot of other specialties, including Emergency Medicine and Critical Care Medicine, along with Oncology, Medicine and many others. We always try an integrated care approach of mind and body and treat the person as a whole." 
For more information on the Department of Psychiatry, visit their website.