Ten years ago, the Department of Surgery had 34 members, and today it boasts an incredible 56 surgeons in seven divisions with active recruitment still happening. Those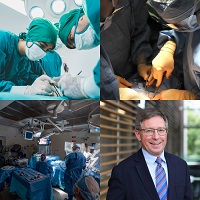 divisions include general surgery, orthopaedic surgery, plastic surgery, neurosurgery, thoracic surgery, cardiovascular surgery, and otolaryngology/head and neck surgery. Dr. Ross Walker has been Department Head for a little over a year and he says there have been several new developments in the field. "The evolution in surgical Departments has been great, surgical techniques have changed dramatically with the access of minimally invasive surgery – all of our divisions participate in that – and robotics is the new aspect of minimally invasive procedures," he says. Several divisions have made new strides as well, Dr. Walker explains. "General surgery has been very active in minimally invasive procedures in rectal cancers and is currently the highest volume robotic colorectal cancer program in Canada. In the area of cardiac, vascular and neurosurgery, they have made huge strides in endovascular techniques that are minimally invasive. Those are some of the things that are interesting, including the growing and enhanced relationship with Interventional Radiology. It's indicative of a recognition of the developing overlap of the skill sets of Radiology, Cardiology and Surgery and coming together in a very collaborative and collegial fashion," he says. 
Dr. Walker has been pleased to see the growth in his Department over the years. "Our numbers are growing without a significant increase of resources at KHSC, including OR resources. What surgeons want is more OR time and we're splitting a pie more ways, but we've been able to facilitate patient turnaround much quicker and the development of endovascular procedures and minimally invasive surgery has optimized available resources," he says. Another outcome of the increased recruitment has been a significant increased productivity in academic work for the Department. Dr. Walker says, "Five of our neurosurgeons are PhD clinician scientists and two are clinician scientists supported by SEAMO – 50 per cent of their work is dedicated to research. Our entire team really is providing state of the art care and leading innovations and scholarly work." 
For Dr. Walker, the Alternative Funding Plan Agreement (AFP) model of SEAMO is advantageous for physicians and Departments. He says, "My personal view is a comprehensive AFP is really ideal for an academic medical centre. An AFP allows us to protect people's incomes and manage our deliverables and others can focus on academics, because they have the aptitude and training to do that. Having one hospital at KHSC with their strong support for the academic mission and getting hospital privileges is key, as well as the necessity of having a Queen's appointment – that's unique and a real strength." 
Dr. Walker is proud to share news of his Department's recruitment that has increased academic activity across Divisions. "We have been successful in the recruitment of well-trained people with PhD's and other advanced training in research which has led to increased academic productivity of the Department and moving forward to becoming a state-of-the-art place for modern surgical care.  This is a dramatic development which sets us up as an essential resource for the South East region of Ontario and potentially beyond that. 
One thing Dr. Walker wants people to know about his Department is that it is filled with friendly individuals. "It's a relatively large Department compared to other Departments and it's really quite diverse. I think Departments of Surgery, especially academic Departments of Surgery, don't have the best reputations and surgeons are seen as being challenging to work with, but my personal feeling is I think we have a really collegial group of surgeons," he says. "They care about their patients because they are committed and want to provide the best care in a timely way. We couldn't have made the strides we have made without collegial and committed surgeons. We have a responsibility to protect our researchers and our educators so that they can focus on their work, while we all provide state of the art surgical care." 
To learn more about the Department of Surgery, visit their website.