For the next few months, SEAMO will highlight the work of our committees. In February 2022, we hear from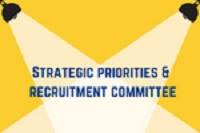 member Dr. Ryan Bicknell and Chair Dr. Jane Philpott about the Strategic Priorities & Recruitment Committee.
The Chair of the Committee is the CEO of SEAMO and has representation from CTAQ (Clinical Teachers' Association of Queen's University), KHSC (Kingston Health Sciences Centre), Providence Care and Queen's University. The role of the SPRC is to support the Governing Committee in overseeing the strategic planning process and the establishment and implementation of a physician staffing and recruitment plan. The Committee also oversees several programs, including: 
-    Innovation Fund
-    Clinical research fellowship
-    Endowed chairs in research and innovation
-    Medical education development
-    Medical education scholar recruitment
-    New clinician scientist
Dr. Ryan Bicknell has been a part of the SPRC since 2017 as a CTAQ representative and he says the inclusion of all SEAMO signatories is important. "I think having CTAQ members involved in the SPRC is very important. CTAQ must have a voice at this table and other tables that involve decisions regarding the future of clinical teaching at Queen's University and KHSC. It's also nice to rub elbows with people like the hospital CEOs, Chiefs of Staff and the Dean. I have learned a tremendous amount from watching these people interact and discuss important issues," Dr. Bicknell explains. 
On the SPRC, Dr. Bicknell sees his role as being two-fold: "First, I listen and learn. As clinical teaching faculty, we often have very little understanding of what SEAMO is and what SEAMO does. This opportunity has been a great learning experience," he says. "Second, and probably my primary goal, is to represent the interest of the clinical teaching faculty. Being a voice for all clinical teaching faculty and making sure we have a place at this table is a great responsibility and one that I take very seriously."
Committee Chair and SEAMO CEO Dr. Jane Philpott recognizes the all-encompassing work of the Committee and commends those who sit on the committee to help SEAMO accomplish its goals. 
"The Strategic Priorities and Recruitment Committee for SEAMO advises the Governing Committee regarding the priorities of the organization, including those in the strategic plan. We are responsible for the establishment and implementation of a SEAMO physician staffing and recruitment plan and we are the lead committee for several Funds and Programs of the organization. As Chair of this Committee, I am very proud of those who serve and the work we are able to accomplish."
To learn more about the Strategic Priorities & Recruitment Committee, visit our Member Dashboard website.