•    7323 eConsults sent in last 12 months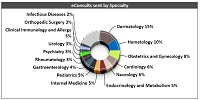 •    1792 eConsults sent between the months of April and June of 2021
•    Average response time for eConsult to be answered is less than 48 hours
•    Currently 233 PCPs active using the eConsult service in SE region
•    Currently 138 Specialists providing eConsults in the SE region
This report has been created by and has been reproduced with permission from the Ontario eConsult Centre of Excellence. For more information, contact eConsultCOE@toh.ca. 
Dr. Arawn Therrien from the Upper Canada Family Health Team says of eConsult: "eConsult has dramatically improved my access to specialist consultation. It has proven to be an efficient tool in improving patient access to advanced care."
 
Dr. Brian Hart, also from the Upper Canada Family Health Team, says: "I love the convenient rapid access to specialty expertise. It would be even better, if our EMR integrated with the eConsultation process. Thank you for this service."
Visit our website for a list of specialists separated by last name and by specialty.