Going live on Wednesday, March 1, 2023, the South East Substance Treatment and Rehabilitation (STAR)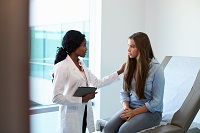 Team is offering eConsult follow up care to primary care physicians who follow patients seen by the STAR team on discharge to the community. The STAR team's physicians offer a consultation service for inpatients admitted to Kingston Health Sciences Centre (KHSC) who have a concurrent substance use disorder which either contributed to their admission or is complicating their treatment. The team includes Drs. Heather Johnson, Sean Haffey, Adam Newman, Henry Swoboda and Wilna Wildenboer-Williams. 
Dr. Newman says the STAR team will be able to use eConsult to communicate with patients' family physicians and other primary care providers to inform them of our involvement and to provide advice and education about suggested follow up and treatment. "It will allow primary care providers in turn the ability to clarify any questions they may have about the utility of any of the treatment recommendations we make and will enable us to work collaboratively with providers in the community who can inform us about specific conditions in their patients' local environments we may not have been aware of, and that may necessitate adjustments or alterations to the interventions we may have suggested," he explains.
Here are three common questions about addictions medicine that can be answered using eConsult:
An alcohol anticraving agent was started in hospital and the patient is having either a partial response or no response +/- intolerable symptoms. How should I proceed?
A suboxone microdose initiation was started in hospital but the patient has missed X doses since discharge. How should I proceed?
The patient continues to experience cravings and/or withdrawal despite the opioid agonist therapy (OAT) regimen that was started in hospital. What are my options? 
Dr. Newman is hopeful the future of the STAR team is to have an outpatient space. He says, "We hope to have administrative support in this space in order for us to keep track of referrals, schedule follow ups for patients who have been discharged and have not yet established links with community providers and multidisciplinary colleagues such as nurse practitioners, social workers and peer counsellors. We can then offer services to patients with addictions beyond the strictly medical."