This summer, SEAMO is pleased to welcome two new team members to assist with all things digital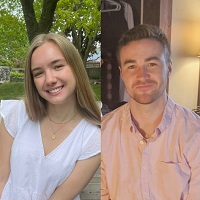 health within the organization.
Abby Simpson is our new eConsult Project Coordinator. In that role with the Department of Medicine and the Department of Surgery, her work this summer will involve communicating with primary care providers about implementing eConsults as the primary route to specialist consultation for selected referrals. She will be keeping a lot with the purpose of tracking project activity and gauging trends over the next several months. Abby grew up in Kingston and will enter her third year of the BHSc undergraduate program at McMaster University in the fall. She has previous experience as a data entry clerk for SEAMO and as a research assistant in the Department of Medicine at Queen's. 
Jacob Pardy is our new Project Coordinator for the eConsult pilot project with the South East Heart Rhythm Service. Within the pilot project, referrals that are suitable for eConsult are triaged by the team of specialists, and Jacob contacts the patients' primary care providers, informs them of the pilot project and advises them that their referral could be changed to an eConsult. This benefits the patient by providing a timelier specialist response. Born and raised in the Kingston area, Jacob completed his M.Sc in Aging & Health at Queen's in November 2020. He has also worked in LTC in the Kingston area.