Psychiatry as a specialty made up three per cent of the total number of eConsults sent in the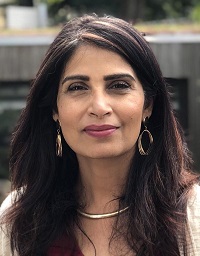 past 12 months. Dr. Sarosh Khalid-Khan would like that number to increase. 
Dr. Khalid-Khan, MD, DABPN, FRCPC, is an associate professor at Queen's and Chair of the Division of Child and Youth Psychiatry in the Department of Psychiatry at Kingston Health Sciences Centre (KHSC). "I treat patients ranging from school age to 18 years. My research explores biomarkers in emerging personality disorders and eating disorders in adolescents," Dr. Khalid-Khan says. She has been providing eConsults since 2017 and says, "the benefits have been immense." She says, "I strongly believe in enhancing capacity in primary care as well as increasing access and providing timely care to patients and families in our area." Dr. Khalid-Khan says the positive outcomes of sending eConsults are that they save time for both the primary care provider, specialist, as well as the patient. "In addition, it enhances the primary care physician's capacity to treat childhood psychiatric disorders with support from a child and adolescent psychiatrist. Getting treatment from a primary care physician allows patients and families to be treated in a familiar and comfortable environment while simultaneously reducing stigma and avoiding long wait times," she says. 
Here are a few of the Psychiatry questions that can be answered using eConsults:
-    If an adolescent has ADHD and is also depressed, which would you treat first?
-    If there is a side effect of restlessness on a SSRI with clear benefits, would you keep the anti-depressant or switch to a different one?
-    Which medication would you use after proper sleep hygiene has ben achieved and melatonin has been tried with no benefit?
-    A SSRI and SNRi has been tried for disabling anxiety and panic attacks. Which medications should be tried next?
-    An adolescent's depression is worse after starting Sertraline including having suicidal thoughts. Would a change in medication or augmentation with another agent be helpful?
For Dr. Khalid-Khan, the benefits of eConsults are that they are answered in a timely manner and often a referral does not need to be done. She says, "All the eConsults I have received have been appropriate and the case scenarios ranging from simple to moderately complicated. Although I have been offering eConsults since 2017, it has been a disappointingly low number of primary care providers who have utilized this service." Dr. Khalid-Khan is open to receiving more eConsults, she says, and would be thrilled to see increased usage of the Program across the region and specifically in her specialty of Psychiatry. "eConsults break down barriers for patients and their families, as well as for primary care providers and I hope it is utilized more often and consistently." 
Dr. Khalid-Khan is available through eConsults on OTNHub.ca. If you need further information, please contact seamo.digitalhealth@queensu.ca.