Kingston Health Sciences Centre (KHSC) has undertaken a project to pilot an integrated model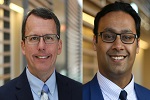 of Ocean eReferral and Novari eRequest to digitize and centralize how outpatient referrals are received and managed by specialties. This work, coming from the Innovation Initiative to Eliminate Wait Times, is being piloted in four specialty groups: Pediatrics, General Internal Medicine (GIM), Urology, and General Surgery. Pediatrics, General Internal Medicine, and Urology have all recently implemented these systems, with General Surgery planned for Fall 2022. This provincially funded initiative is making eReferral available for primary care physicians and receiving specialist offices, along with a centralized system to manage all new patient referrals – helping to improve overall workflow and communication about waitlists between providers.
As part of this project, there are important changes to the referral process for providers who refer to these specialists. 
New Ocean eReferral forms are automatically available for use in Ocean by referring providers
New referral forms for faxed referrals*:
Pediatrics, GIM, and Urology have new referral-only fax lines that should be used for sending new patient referrals:

KHSC Pediatrics: 1-855-228-9737
KHSC General Internal Medicine: 1-855-247-4613
KHSC Urology: 1-855-247-4615

The new Pediatrics fax line should only be used for sub-specialties that reside within the Department of Pediatrics, including:

General Pediatrics
Pediatric Hematology/Oncology
Pediatric Respirology/Cystic Fibrosis
Pediatric Asthma
Pediatric Diabetes
Pediatric Endocrinology
Pediatric Cardiology
Pediatric Infectious Disease
Pediatric Neurology/Epilepsy
Neonatology/Prenatal Consultation/Neonatal Follow-up
Pediatric Gastroenterology
Dr. Richard van Wylick, associate professor in the Department of Pediatrics, says this project is the first system for electronic receipt, triage and waitlist management of ambulatory referrals at KHSC. "It collates all referrals, however received (via Ocean eReferral fax or on paper) into a single electronic database for ease of triage, tracking and booking. It provides waitlist management data so we can better understand wait times for different patient needs," he says. Dr. van Wylick also explained while there are a few specialties piloting the system now, KHSC aspires to have it implemented within all services. "For referring physicians and patients, we will be able to more readily track referrals and provide accurate wait time data. Maintaining this information in a consolidated electronic database will ensure information on the status of referrals is easily available. Accurate, real-time wait list data can assist in ensuring patients are seen in as timely a way as possible and by the most suitable provider." Dr. Siddhartha Srivastava, assistant professor in the Department of Medicine, Division of GIM, adds, "We hope the system will decrease reliance on paper or fax-based processes for managing new referrals, decrease waste and increase efficiency for administrators and clinicians and ultimately improve patient care."
This work is being funded by a grant form Ontario Health, with support for project management from a donation to Queen's Health Sciences and SEAMO.
If you have questions about the changes to the referral process, please contact:
Lisa Palmer, Senior Project Manager at lisa.palmer@kingstonhsc.ca 
Madelaine Meehan, Project Manager at madelaine.meehan@kingstonhsc.ca. 
If you are not yet using Ocean eReferral or have questions related to adoption, please contact Art Dunham at art.dunham@ontariohealth.ca. 
[*.CFM file format for Telus PS Suite EMRs available on request (email madelaine.meehan@kingstonhsc.ca)]